Blending genres is now the new norm in hip hop. Californian songwriter Duckwrth is leading the charge in a modern yet throwback take of hip hop, neo soul and R&B. After a string of independent mixtapes, Duckwrth has freshly released his major label debut record, SuperGood, embodying a vibrant template to all tracks that oddly juxtaposes with the events of 2020.
Duckwrth is our latest feature for the second edition of The Spot Cheque, who answered a few questions on his musical style and his latest album.
How do you feel about the release of your album, SuperGood?
I feel good, I feel more relieved that it's out. For an album called SuperGood it's already it's own affirmation. When you press play it's supposed to make you feel super good and I feel like it came right on time, where people need to feel the best that they can at this moment.
Has 2020 influenced the way you wrote the album?
Ironically I wrote the album in January. We finished all the songs in January. So COVID was just popping up and nobody was taking it as serious until about late February. So when I was writing it i was like, "This is 2020, this a new decade, this my year, we bout to go stupid." My thoughts and ideas of it were so different from the 2020 that we know now.
What was it like growing up in LA?
Growing up in LA, especially in the 90s and 2000s, it was beautiful. It was always sunny. Poolsides is a common thing out here. It's kind of like its own weird utopia but on the flipside it's a lot of trauma. It's a lot of gang activity that was happening in the 90s. So a lot of my youth was learning how to survive.
I think by being raised specially in South Central, Los Angeles, gave me a backbone. So when i deal with corporate America I don't take no bullshit because i learnt how to survive ducking bullets and shit. So I stand with a straight spinal cord. It just taught me all the methods I needed to get the things that I needed to get; as an artist, as a man, as a businessman, and stuff like that.
Who were some of your biggest inspirations?
OutKast, at least on the hip hop. As a young person that was in South Central they showed me there was a different type of being a black creative. They made me be comfortable in my skin, because i was difeerent goriwng up. They inspired me not just musically but as a person who's different. I want to do that with this generation as much as I can.
What would your dream collaboration be?
Neptunes, or Rosalía, or Stevie Wonder. But definitely Neptunes just because they're the GOATs bruh. I always wanted to be on a Neptunes beat when I was younger, so it's more so the inner Duckwrth in me would be so stocked. Even seeing their recent song with SZA, they're not dated. So that's so tight to me that they can do whatever the fuck they want to do and whatever they want to create.
How did you decide on the album art for SuperGood?
I feel like my covers have always been like fantasy in certain ways. For this one it's mainly about love, what happens when the character does fall in love. I feel like they show the growth of me as an artist. The 70s, especially for black people, was a time for celebration. We had just came out of civil rights and black people started to gain certain freedoms. So within that when black people started going back in who they are in their original essence a bit of magic happens. That's why you've seen such eclectic style and their music was so colourful and the album covers were so beautiful. So I wanted to tap into that magic.
How have you been finding inspiration during the pandemic?
I have a crazy amount of writers' block right now. I know what sound I want to go into for the next album but out of the many songs I've made after the album are just beats and like two of them that are actually worth putting out. It's been really hard and mainly because it's been a crazy year. This year became a year of survival. I think that's where my energy is at right now. In 2021 things may be more chilled but 2020 is a year of reflection.
Was there a particular song that was more difficult to write?
"New Love Song." I had the idea to do it before the album and in the sample of the song there is The Clark Sisters, "Jesus is a Love Song." And I wanted to give a nod to gospel music because that's some of the early music I remember from my childhood. I just wanted to do two songs that gave that nod. I recorded the rap part of it and then we did the bridge and then i sat on it for like three weeks, I didn't know how to finish it. i wanted to do the whole "Jesus is a Love Long" but I didn't want to say Jesus because i didn't wanna be particular to religion. But I wanted to still do the whole love song so i needed to find a group of girls who can sing and give respect to The Clark Sisters but then find a different phrasing. So the theme of the album is this relationship I have what this girl and how I wanna ask her on this first date. I wanted "New Love Song" to be the foreshadow of 'these characters are gonna fall in love by the end of the album' just like how a movie foreshadows it.
What's something you learnt about yourself as an artist and person during the making of this album?
I learned that I'm only as strong as the people around me. This album is very much a village, it was a collective creation. A lot of times I won't be able to arrange a certain phrasing and then I have my homegirl who is in the studio with me, she'll come up with a better arrangement and she'll give that to me and I'll put the spice on. Or even if it's production. I don't produce but if I hear something I'm able to hear and make the progression. The writers in there, the producers, my manager. Even my engineer. Usually engineers won't say nothing if something suck, they just tryna keep their job. But if something suck my engineer would tell me "Bruh that shit suck." So it was a very collective creation.
What is your music process like and how do you manage to blend so many genres together?
I listen to so much music so I'm more so like a segue of these different genres. It's like when you make a smoothie and you put in all the flavours and it creates the juice that you drink and enjoy. So I'm like a smoothie in the best sense. But it's never that I'm trying to blend them, like "I intentionally want to blend this punk track with this gospel track."
The music that inspires me most in the studio is soul, jazz, gospel – certain chord progressions really resonate in my soul. The genre that inspires me when I perform is strictly punk. That's the shit I want to tap into, cause they perform with such conviction. It rouses people up and gets the fire started. One of my favourite bands is Bad Brains and the way the lead singer HR performs, he's a beast. He channels into straight fire and savagery. That's the place I choose to be at when I perform.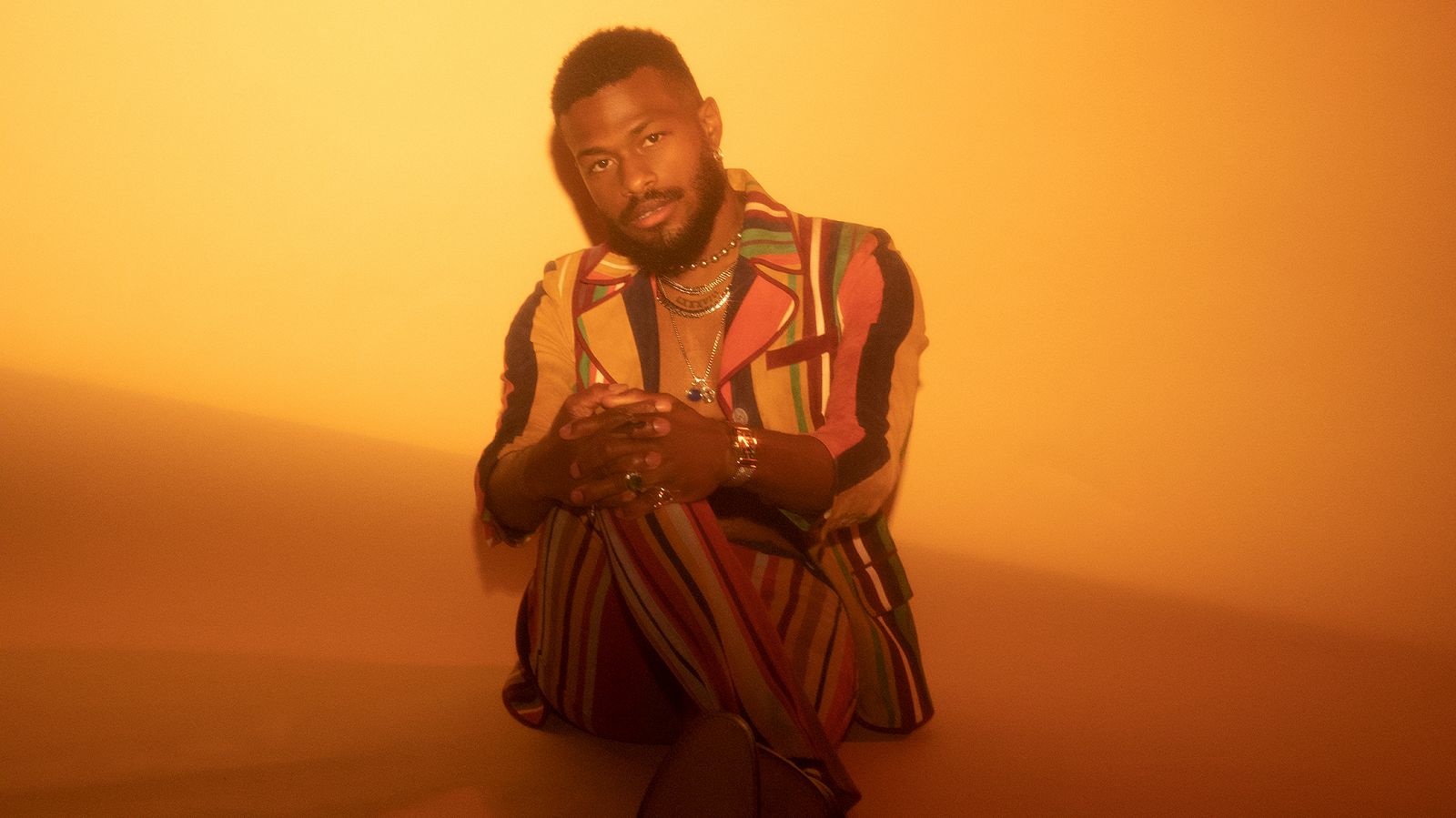 What's your outlook in racism and politics in 2020?
I feel that everything happens for a reason. If you zoom out of life and you pull out and you just look at Earth for its history, I feel like a lot of racism was swept under the rug and it was very passive. Sometimes it takes these energies where they are light or dark to dig up the shit and show America at face value what it really is. For so long we treated it like "We've progressed" but America is jut as racist as it was back in the way. They just found a new way to do it, and slavery still exists, it's just in prison systems and consumerism.
I fuck with politics but I don't fuck with politics cause it's kind of corrupt. But I like more local politics and local legislation, things that you can do in your community. I feel like every artist speaks for their community. Chance is for Chicago, and for me I'm for Los Angeles and I'm specifically for South Central. Because that's the place I was raised in and I got to see first hand the issues and problems in South Central.
If everybody handles things as a village then we'll able to as a whole uplift. I'm not saying I want to save the whole world. I would like to but first I gotta start with my community. I'm hoping that things will get better soon but things will have to get bloody for it to get to that point because that's what America understands. America understands war and it understands consumerism. So when you fuck up people's pockets and lives that's when they pay attention. Every storm is temporary and we will eventually get to a better place.
Tyler, the Creator won Best Rap Album at the Grammys and he mentioned how it was a double-edged sword. Do you feel like people try put black artists into a box?
I'm happy that Tyler won hip hop. If he was placed into Album of the Year he would have been going up against Billie Eilish, Lizzo, Ariana Grande. And Tyler is a powerful player int he game but billie won over Lizzo so I feel like he wouldn't have had the same chance as winning hip hop. People were behind him so much for his IGOR album. Everything is a process. We get one victory here then we'll get the next victory there.
"Urban" is another word for saying "You make this certain type of music but you have this certain type of face so you'll automatically be in urban or R&B." It really is a problem. But it takes people like Tyler who has a power position to change this.
I hate a lot of different things about the industry and how they label everything. Even in some of the playlists that are supposed to be the representation of hip hop are strictly one genre that has some of the most derogatory lyrics against women or pushes drug abuse or drug dealing and violence and it's praised and adored and championed. All I can do is try make as much change as possible.
SuperGood is out now and available to stream on all digital platforms.